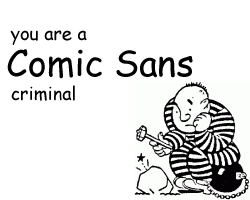 We All Make Mistakes
Sometimes, we make typographic mistakes that are unforgivable.
Luckily, there are websites out there to help us as we recover from the embarrassment, and that can help us find alternative comic book styled fonts to vary our designs.
Enter Comic Sans Criminal
Comic Sans Criminal is a fun website that offers support in a humorous way to folks looking to do creative typography without abusing Comic Sans.
So next time you think about making a sign for you company or a quick flyer for a promotion, remember to get creative, and try and use a better typeface.