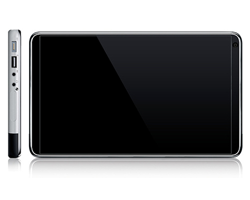 Apple Inc. is expected to unveil the second-generation iPad today.
Last week, the Cupertino, California company had sent invitations to a media event in San Francisco schedule for today.
The invitation showed a calendar page with the upper right hand corner peeling away to reveal an iPad underneath.
The large "2" on the calendar page denotes the event's March 2 date and could be another hint that Apple is about to unveil the follow-up to the original iPad.
The event will take place nearly a year to the day after the first iPad went on sale. Apple updates most of its products once a year.
New is the New Black
Various reports have speculated that the new iPad will have a front-facing camera, which would allow people to hold video chats using services such as Skype.
If this is indeed the case, the iPad design would more closely match the iPhone 4, which went on sale last June with a front-facing camera as well as Apple's own video chatting software, called FaceTime.
Unlike other gadgets the new iPad will be thinner and lighter than the original, which weighs 1.5 pounds.