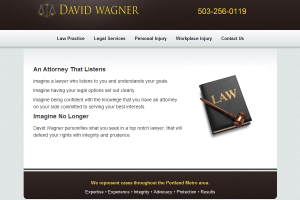 David Wagner is an experienced personal injury attorney in the Portland Oregon metropolitan area whose practice focuses on representing people that have been injured.
His law office specializes in auto accidents and work injuries.
Whether you are suffering from a soft tissue injury, a catastrophic spinal injury, or a family member suffered a wrongful death, David Wagner personifies what you seek in a top notch lawyer, that will defend your rights with integrity and prudence.
For his website, David wanted something simple and easy for people to use. The Tipi is an example of website simplicity at its finest.
Package: The Tipi
Website URL: davidwagnerpdx.com
Services: Logo Design, Web Development, Web Maintenance, Writing
Technologies: Javascript, jQuery, PHP