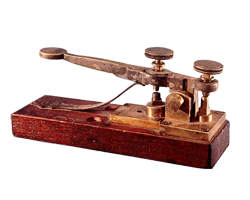 The birth of the electric telegraph, often referred to as the Victorian Internet happened over 170 years ago.
Since that first signal was sent, the telegraph ushered in a period of rapid expansion of a communications network in the nineteenth century which can be likened to the twentieth century's internet boom.
In an editorial on 20 April, 1857, the New York Herald commented:
The laying of the telegraph around the world is the great work of the age.
For the first time in history, the telegraph made rapid communication possible between Europe and America, and between Britain and her distant colonies such as Australia.
We All Have To Start Somewhere
So it is fitting that we begin our blog with this tribute to the telegraph. A device no longer used, antiquated into the annals of history, and always there to remind us where we started, and where we have gone since.